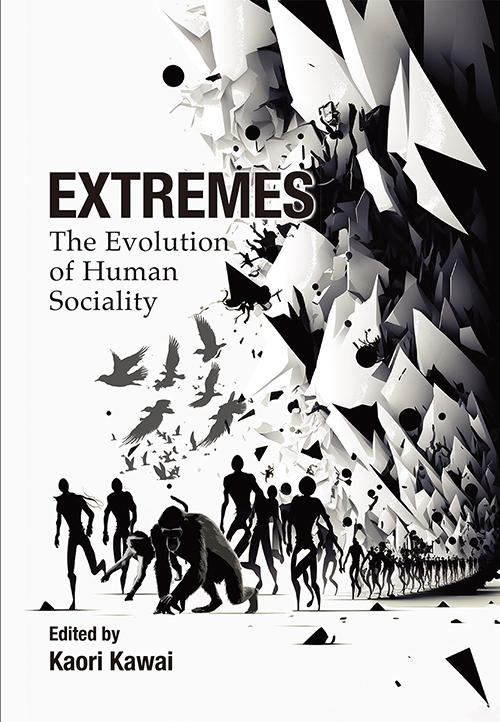 Humans have always faced the threat of extinction. This book takes a broad perspective of the 'extreme' conditions of human existence and survival to examine how extremes have forced humans to change and how such extremes have determined the nature of society.
This book is the final volume in The Evolution of Human Sociality series, a collaborative research project between primatologists and anthropologists. In seeking to understand human sociality, twenty-one authors focus on states of extremity and the ways in which they are perceived and confronted by humans and primates. The contributors consider, among other topics, the extremes of urbanization and the disappearance of village societies; the extremes' of climate change, the Anthropocene, and the extinction of the human species; the extreme' of human birth; the extreme' of the absence of mothers for infant chimpanzees; and the 'extreme' of radiation disaster.
On a more theoretical level, the book illustrates what happens at the moment when humans and primates choose their actions to survive under the pressure of extremes, as well as the mechanisms at the 'tipping' points of their action selection.

Contributors

Kaori Kawai
Professor, Research Institute for Languages and Cultures of Asia and Africa, Tokyo University of Foreign Studies

Kaoru Adachi
Associate Professor, Faculty of Sociology, Kyoto Sangyo University

Noriko Itoh
Researcher, Wildlife Research Center/Center for African Area Studies, Kyoto University

Keiichi Omura
Professor, The Open University of Japan

David S. Sprague
Specialist, National Agriculture and Food Research Organization

Yuji Takenoshita
Professor, School of Nursing and Rehabilitation, Chubu Gakuin University

Michio Nakamura
Associate Professor, Graduate School of Science, Kyoto University

Shunkichi Hanamura
Researcher, Center for African Area Studies, Kyoto University

Hitonaru Nishie
Restart Postdoctoral Fellow, Japan Society for the Promotion of Science/ Graduate School of Science, Kyoto University

Ryoko Nishii
Professor, Research Institute for Languages and Cultures of Asia and Africa, Tokyo University of Foreign Studies

Ikuya Tokoro
Professor, Research Institute for Languages and Cultures of Asia and Africa, Tokyo University of Foreign Studies

Toru Soga
Professor, Faculty of Humanities and Social Sciences, Hirosaki University

Takeo Funabiki
Professor Emeritus, The University of Tokyo

K ji Kitamura
Professor Emeritus, Okayama University

Motomitsu Uchibori
Professor Emeritus, Hitotsubashi University; Professor Emeritus, The Open University of Japan

Masakazu Tanaka
Professor, Professional Institute of International Fashion

Naoki Kasuga
Professor Emeritus, Osaka University; Professor Emeritus, Hitotsubashi University

Suehisa Kuroda
Professor Emeritus, University of Shiga Prefecture

Yuko Sugiyama
Professor, Faculty of Humanities and Social Sciences, Hirosaki University

Naofumi Nakagawa
Professor, Graduate School of Science, Kyoto University

Hideaki Terashima
Professor Emeritus, Faculty of Humanities and Sciences, Kobe Gakuin University

Figures
Tables
Photographs
Contributors
Acknowledgments

Introduction: Existence, Environment, and Extremity: Seeking an Evolutionary Historical Basis for Human Sociality
Kaori KAWAI

Part I: Livable Extremes: Between Nature and Society
1 Momentum as an Extreme: The Sociality of Moving Groups
Kaoru ADACHI
2 At the Fringes of Society: The World Brought into Being by the Extreme of the Present
Noriko ITOH
3 The Ontology of the Extreme: Seeking an Evolutionary Basis for Human Sociality in the Systems of Inuit Subsistence and Modernity
Keiichi OMURA
4 Mortality: Ecological and Life History Interpretations of the Mortality Rate in Human Evolution
David S. SPRAGUE
5 The Anthropocene as Extreme
Yuji TAKENOSHITA

Part II: Realizable Extremes I―Existence and Social Environments
6 On the Survival of Orphaned Chimpanzees: Does a Mother's Absence Constitute an Extreme Social Environment?
Michio NAKAMURA
7 When Newcomer Females Become Separated: Human Modes of Coexistence and Their Limits from the Perspective of Chimpanzee Partings and Reunions
Shunkichi HANAMURA
8 Isolation as a Singular Point of Society: When Wild Chimpanzees Become Solitary
Hitonaru NISHIE
9 Rethinking Pastoralist Nomadism: Dealing with the 'Extreme' among the Dodoth of East Africa
Kaori KAWAI
10 Approaching the World of the Living from the Extreme of 'the Invisible': Thoughts on Spirits, the Dead, and Radioactivity
Ryoko NISHII
11 On the Environment and Existence in Hazard Situations: Comparing Extreme Situations in the Mindanao Conflict and Radioactive Damage in Fukushima
Ikuya TOKORO

Part III: Realizable Extremes II―The Power of Memory and Imagination
12 Between Ethnic Favoritism and Ethnic Hatred
Toru SOGA
13 A Survival Strategy for Extreme Populations: Mbotgote, 1974 76
Takeo FUNABIKI
14 Interaction Communication Systems and the Context of 'Society': Communication as a Touchstone for Approaching the Extreme of the Disappearance of Local Community
K oji KITAMURA
15 Extinction as an Extreme: Its Entitative and Categorical Phases
Motomitsu UCHIBORI
16 Living at the Extreme: A Case of Sex Workers in Mumbai, India
Masakazu TANAKA
17 The Inevitability of Extremes: Thinking about Initiation in Papua New Guinea
Naoki KASUGA

Part IV: Extremes Engraved in the History of Human Evolution
18 Childbirth and Birth as Extremes: A Benediction by a Hard and Narrow Path
Suehisa KURODA
19 A Distinctively Human Aspect of Cooperative Food Preparation and Survival: When Food Became
a Community Resource
Yuko SUGIYAMA
20 Exploring the Habitat of Ardipithecus ramidus: by Modeling the Survival Environment for Extant Primate Groups
Naofumi NAKAGAWA
21 Evolutionary and Cultural 'Swing-by' through Encounters with Others: A Comparison of Archaeological and Ethnographic Data
Hideaki TERASHIMA

Index