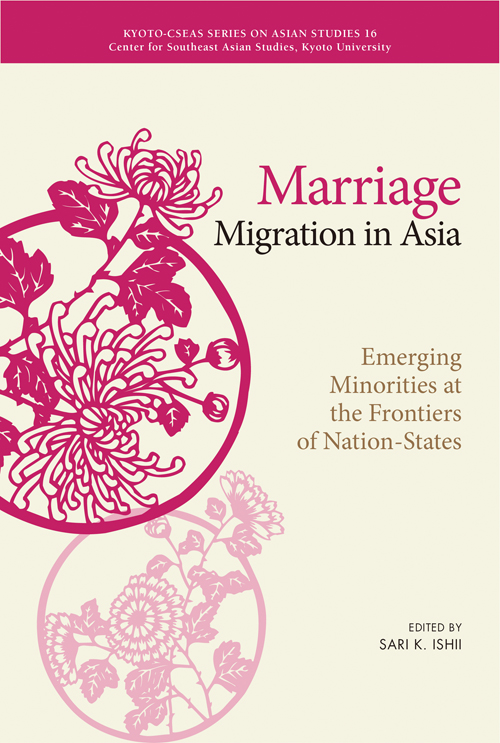 Kyoto CSEAS Series on Asian Studies 16
Marriage Migration in Asia
Emerging Minorities at the Frontiers of Nation-States
PB,
ISBN: 9784876988921
pub. date: 02/16
Written Language: English

Men are disadvantaged in the marriage markets of many Asian countries, and in some cases their response is to look abroad for a partner. Receiving countries for marriage migrants include Japan, Korea, Taiwan, Hong Kong, and Singapore, while the Philippines, Thailand, Vietnam, Indonesia, and parts of mainland China supply wives to these territories. In the absence of uniform international regulations concerning the rights and obligations of partners, such unions are treated differently in different jurisdiction. In extreme cases migrants or their children become stateless, and when marriages break down, migrants sometimes face major legal problems.
In such circumstances, marriage migrants are often portrayed as powerless, uneducated victims. Rejecting this perspective, the authors in this volume explore the agency of women who migrate abroad to acquire opportunities unavailable to them in their homelands. They show that the trajectories of marriage migrants are often not a simple movement from home to destination but can involve return, repeated, or extended migrations, and that these transitions that can alter geographies of power in economics, nationality or ethnicity. Based on features shared by many marriage migrants, the book identifies them as an emerging minority at the frontier of the nation-state, a group whose status may well carry over to future generations.

List of Figures
List of Tables
Foreword
Acknowledgements

Introduction: Marriage Migrants as Multi-marginalized?Transnational Diaspora
Sari K. Ishii

PART I MIGRATION FLOWS BEYOND THE MARRIAGE-SCAPES

Chapter 1: Forging Intimate Ties in Transnational Spaces:?The Life Trajectories of Japanese Women Married?to Pakistani Migrants
Masako Kudo
Chapter 2: Unintentional Cross-cultural Families: The Diverse Community of Japanese Wives in Shanghai
Chie Sakai
Chapter 3: Marriage "During" Work Migration: Lived Experiences?of Filipino Marriage Migrants in Malaysia
Linda A. Lumayag

PART II REVERSED GEOGRAPHIES OF POWER

Chapter 4: "Centre/Periphery" Flow Reversed?: Twenty Years?of Cross-Border Marriages between Philippine?Women and Japanese Men
Ikuya Tokoro
Chapter 5: Child Return Migration from Japan to Thailand
Sari K. Ishii
Chapter 6: Assimilation of the Descendants of Caucasian?Muslims in Sarawak, Malaysia
Caesar Dealwis

PART III MARRIAGE MIGRANTS AS MULTI-MARGINALIZED DIASPORA

Chapter 7: Lives in Limbo: Unsuccessful Marriages in Sino-Vietnamese Borderlands
Caroline Grillot
Chapter 8: Lives of Mixed Vietnamese-Korean Children?in Vietnam
Hien Anh Le
Chapter 9: Born to Be Stateless, Being Stateless: Transnational Marriage, Migration and the Registration of Stateless People in Japan
Lara Chen Tien-shi
Chapter 10: Legal Problems of Marriage between Irregular?Workers from Myanmar and Thai Nationals?in Thailand
Chatchai Chetsumon

Contributors
Index