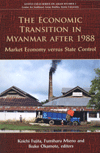 Kyoto CSEAS Series on Asian Studies 1
The Economic Transition in Myanmar after 1988
:Market Economy versus State Control
B5変並製・322頁
ISBN: 9784876983506
発行年月: 2009/03
記述言語: 英語
発行元: Kyoto University Press in association with NUS Press

冷戦の終結以後,市場経済化のトレンドはいまや世界的な趨勢である。ミャンマーでも,1988年の政治的動乱を契機に経済の自由化が進められたが,政治的不安定性が長くその発展を困難な途としてきた。社会主義的経済はいかに市場経済へ脱皮したのか。低開発農業国はいかに貧困を脱したのか。市場原理と政策的統制の拮抗を描き出す。

"The Developing Economies" vol.47, no.4、498-501頁、評者:Myat Thein氏

Koichi Fujita is a Professor in the Division of Economic and Political Dynamics at the Center for Southeast Asian Studies, Kyoto University.

Fumiharu Mieno is a Professor of Economics at the Graduate School of International Cooperation Studies, Kobe University.

Ikuko Okamoto is an Associate Senior Research Fellow with the Area Studies Center of the Institute of Developing Economies (IDE-JETRO) in Japan.

List of Tables
List of Figures
Acknowledgments

Introduction
Myanmar's Economic Transformation after 1988
Koichi Fujita, Fumiharu Mieno and Ikuko Okamoto

PART ONE: Macro Economy and Industrial Structure

Chapter 1
Characteristics of Capital Accumulation in Myanmar, 1988-2003
Fumiharu Mieno
Chapter 2
Industrial policies and the Development of Myanmar's Industrial Sector in the Transition to a Market Economy
Toshihiro Kudoo
Chapter 3
Trade, Foreign Investment and Myanmer's Economic Developent in the Transition to an Open Economy
Toshihiro Kudo and Fumiharu Mieno
Chapter 4
The Financial Sector during the Transition to a Market Economy in Myanmar
Koji Kubo, Ryu Fukui and Fumiharu Mieno

PART TWO: The Economy of Agriculture and Labour

Chapter 5
Overview of Agricultural Policies and the Development in Myanmar
Koichi Fujita and Ikuko Okamoto
Chapter 6
Transformation of the Rice Marketing System after Market Liberalization in Myanmar
Ikuko Okamoto
Chapter 7
Agricultural Labourers in Myanmar during the Economic Transition: Views from the Study of Selected Villages
Koichi Fujita
Chapter 8
Urban Informal Sector Labourers in Yangon
Nang Mya Kay Khaing and Koichi Fujita

Bibliography
Contributors
Index