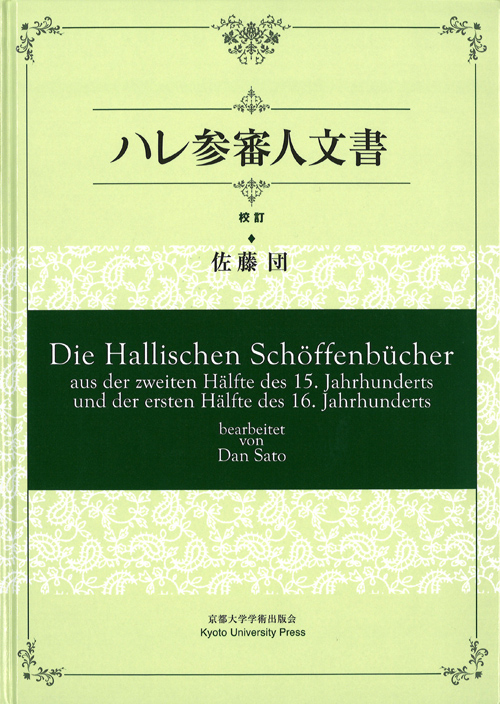 This edition can be regarded as the third volume or sequel to the two-part work that was edited by Gustav Hertel (Gustav Hertel (ed.), Die Hallischen Schöffenbücher, Halle 1878-86). These historical sources from the medieval town Halle had been hitherto mentioned frequently. With this edition, all seven parchment codices from the University and State Library Saxony-Anhalt (Germany) are now available in printed format for research.

This edition was published based on Japan's long tradition of studying European legal history (cf. Dan Sato, Der Sachsenspiegel in der japanischen Forschung, in: Heiner Lück (ed.), Von Sachsen-Anhalt in die Welt. Der Sachsenspiegel als Europäische Rechtsquelle (= SIGNA IVRIS 14), Halle 2015, S. 9-22).

The book includes a total of 2367 entries from scarcely one hundred years and contains three indices (names, places, and subjects and words). The introduction and accompanying appendix (a concordance of the previous editions and the impression from the list of councilmen "Senatus Hallensis") make this newest volume an essential historical resource. This edition will not only contribute to legal history, but also benefit other disciplines, including medieval urban research, historical linguistics, onomastics, and genealogy.

Gönzci, Katalin, [Rezension], in: Sachsen und Anhalt : Jahrbuch der Historischen Kommission für Sachsen-Anhalt, Bd. 31 (2019), S. 326-328.

Jiří Šouša, [Recenze] Právněhistorické Studie, Vol 49 No 2 (2019), p. 151–155.

Alexander Krey, [Rezension] Zeitschrift der Savigny-Stiftung für Rechtsgeschichte, Germanische Abteilung, 138 (2021), S. 496-498.

Adam Kozak, [Recenzja] Roczniki Historyczne, t. 87 (2021), s. 266–268.

Dan Sato
2008–10 DAAD Stipendiat
2009 Eike-von-Repgow-Stipendiat
2011 Doctor of Laws (Kyoto University, Graduate School of Law)
seit 2012 Associate Professor für Europäische Rechtsgeschichte
Kyoto University, Graduate School of Law